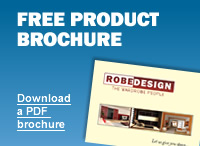 Wardrobes designs for small bedrooms
So your thinking of redecorating ? Its a small bedroom and your not sure where to start, box bedrooms & awkward spaces are a problem for most home owners ...well look no further your in good hands .
When choosing your new wardrobe, there is no better company in the business than RobeDesign Sliding Wardrobes! We are up to speed in all the latest designs and technology so by consulting with one of our highly skilled designers you will be assisted in finding the right design & door type i.e. woodgrains, coloured glass, mirrors etc. to suit your taste and requirements. wardrobes in box bedrooms can be tricky, normally there is a bulk head from the stairs just in the wrong place , so this makes it a little more tricky, the fact that sliding door wardrobes dont open into your bedroom gives you a better chance of getting the design you want for your small bedroom, robedesign have completed lots of wardrobes in small bedrooms , so you dont have to worry ! thats our job. i think the first to do is raise up your single bed....yes raise it up , get some storage under your bed , some good quality drawers, for shoes and books ,games ect ect, believe it or not you can make space under a bed ...a lot of space, more that you would think.